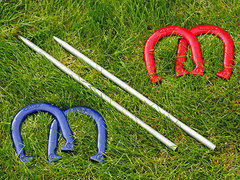 Horseshoe Game Rental
Horseshoes is an outdoor game that is played between two people, or two teams of people, using four horseshoes and two metal stakes set in a sandbox or grass area. The metal stakes in the ground are placed 40 feet apart and the game is played by the players taking turns tossing horseshoes at the stakes. A perfect rental for anyone throwing an extravaganza on a budget.
Please note that we only allow the horseshoe rental with an inflatable bounce house, water slide or slip and slide rental. Call the number to the top right of the page for pickup options if you're not going to rent an inflatable.